El Djem is a small town with a big history. The town is about 65km South of Sousse & Monastir, easily accessible by Car, or by using Public Transport. it's arguably most famous for the Roman amphitheater of Thysdrus that dominates the centre of town, but it's also home to some recently discovered, and quite impressive, Roman ruins.
Fun Facts:
Called Thysdrus by the Romans.
in the 3rd Century AD it rivalled Sousse as North Africa's second City, behind Carthage.
Its Population is about 21,500 (2014)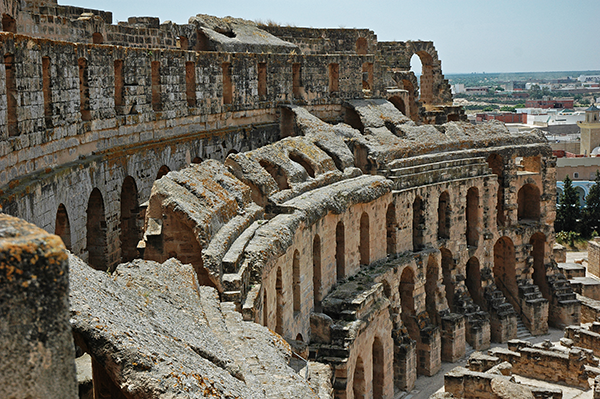 One the one occasion we travelled there, we chose to use the cheap Train. BIG Mistake. Sitting at the train station in Sousse, we watched the train come in, and the absolute chaos that ensued as 100 people tried to disembark, and 100 people tried to board, all at the same time, and all through only ONE small door. Talk about a cattle market, and we had to get in there as well! But get in we did, and made it down to El Djem a couple of hours later.
The first thing that hit us about El Djem was, literally, the heat. It's an absolute Dust Bowl, and the heat just sits in the air – there was no wind that day to help cool things down either.
The second thing to hit you is the Amphitheatre. it's huge – it was able to seat 35,000 people when it was in use – and absolutely towers above anything else in the region. It's also still in very good condition. Entrance is cheap, and there weren't very many tourists there when we visited. As a result, we felt like we had the place to ourselves.

Declared a World heritage Site in 1979, it's one of Tunisia's lesser known attractions, but I'd recommend it above sites such as Carthage, whether you're a history buff or not, for the sheer splendour and scale of the Amphitheatre itself, and the fact that it hasn't been overrun by tourists yet!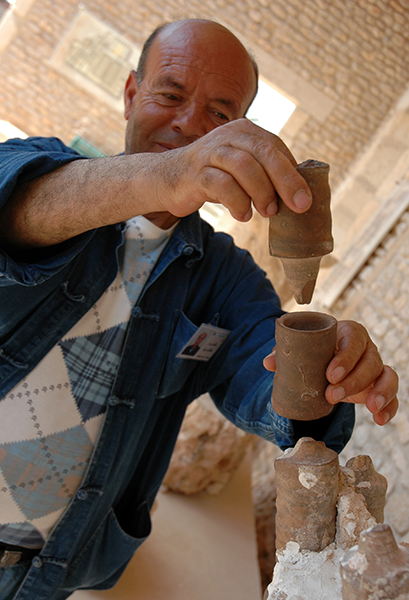 We also discovered one of the old Roman Villa's, that's now been turned into a museum. We had the whole place to ourselves again, and the guide gave us a wonderful & educative walk-through of life during Roman times.
The town itself is not much to write home about, though the people are friendlier and more laid back than in the tourist-centric areas. Recent discoveries in El Djem include a huge Racetrack (Which we weren't aware of at the time of our visit), and the surrounding Villa's have been very well preserved by the heat and sand.
For our return to Monastir we decided to splash out and took one of the fast trains back to Sousse – much less crowded, and air conditioned – and not much more expensive than our morning train either! The difficulty here was that we ended up at a different train station, and had to take a local taxi (Again rather crowded) back into town. What an adventure!