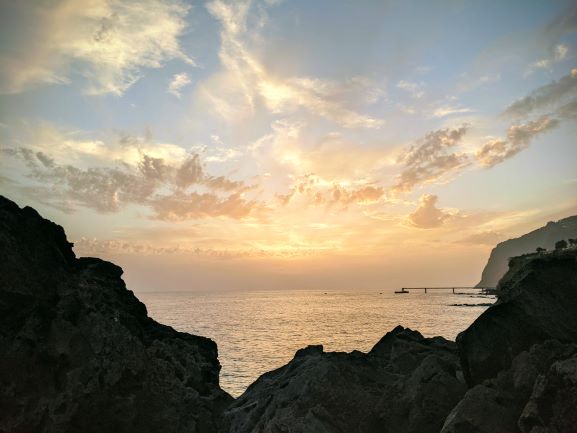 Madeira, for us, was one of those holidays you never expect to have, but that in the end you never forget.
A week before we left, we were in the middle of a crisis, with COVID-19 cases rising rapidly, and the threat of a national "Circuit Breaker" lockdown hanging over the prospect of the October school holidays.
As such, we only booked our holiday (through Jet2Holidays) less than 2 days before we actually flew out from Glasgow. Even the threat of having to quarantine in Madeira and upon our return wasn't enough to keep us in Scotland, such was our need to escape and reset our bodies and minds.
We eventually flew out on a Friday morning from Glasgow, direct to Madeira (thus avoiding any stopovers in Portugal, which was on the Quarantine list).
The flight out was smooth sailing at a little under 4 hours. Landing in Madeira, we were honestly amazed at just how efficient and quick their COVID-19 test procedure was. Supremely organised, it took them only a little over an hour to process the entire plane, from landing to being on our transfer buses.
Once we arrived at our hotel, we spent the afternoon lounging and resting in our rooms, eventually getting our (negative) results roughly 7 hours after being tested. Super Impressed.
This was the final hurdle for us, and meant we could now completely chill out and let the holiday begin in earnest :)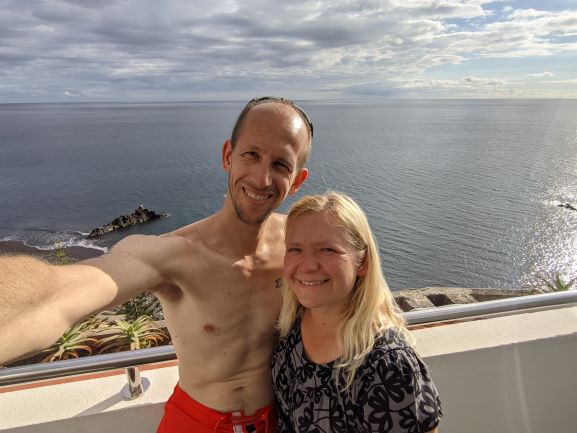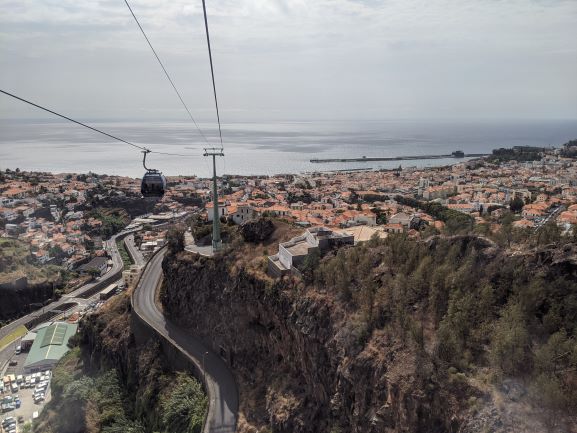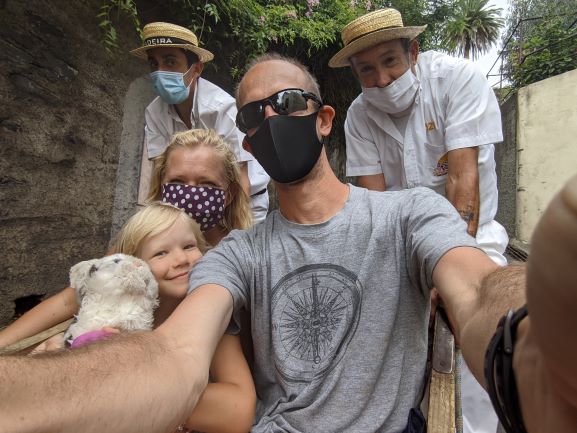 We stayed at the Orca Praia hotel, on Praia Formosa beach, just to the west of Funchal. Even though this is a 3* hotel, it punched above its weight by comparison to some 5* hotels we've stayed in (e.g. in Turkey).
Featuring very comfortable rooms with an outstanding view, good Breakfasts and Dinners (with some local foods), friendly staff, and a fantastic Swimming pool, right on the beach, it's only drawback could be that it's not close to Funchal center. For us though, this was a bonus!
If I'm honest, we probably spent more time at the pool than anywhere else, but that was rather the point of the holiday.
We did have some more "active" days exploring the area and the Island, which I've tried to summarize below. For more information on particular attractions, check the Attractions section at the bottom of the page.

Running all the way East and West in front of the hotel was the Beach Promenade; Following this West, we discovered Camara de Lobos, a stunning village just around the next cliffs from our hotel. Featuring a beautiful harbour, and a very friendly town center, it was the perfect spot to stop and have lunch. We also took the promenade East, and ended up at the Cliff tunnel, a narrow, damp and spooky walkway running through the cliff and next to a sea cave.
On the other side of the tunnel is where Funchal begins, though it's still a long walk to the center of town! We did walk along the promenade from Funchal to the hotel once - it goes most of the way into town, stopping short of the Marina.
On the Monday we hired a car, wanting to explore more of the island. Now, word of warning - driving in Madeira is not for the faint-hearted, as it features some of the narrowest, twistiest and steepest roads I've ever driven along! (driving on the wrong side of the road, too!)

Ultimately though it was worth it. We drove North from Ribeira Brava through the mountains, our first stop being Sao Vicente - a small village, built in the shadows of some truly magnificent mountains!
After wandering around for a while, we continued East along the North coast of the island. We had to stop several times, just to appreciate the stunning scenery that opened up after every turn.
From Sao Jorge, we bypassed Santana and headed up and up and up into the mountains, finally stopping at Ribeiro Frio (at 860m altitude) for a scrumptious local lunch. After lunch we walked along to the Balcoes viewpoint, from where you can see pretty much all the tallest peaks on madeira. We had a bright blue sky to welcome us, but I suspect this view would be made even better by some cloud cover. So dramatic!
After our walk we continued by car to the top of the mountain pass, and then steeply down back into Funchal, eventually getting back to the hotel by 5pm.

The final activity worth mentioning here is probably my Golfing. I got an awesome deal through the hotel to play at Palheiro Golf, to the East of Funchal. A par 72 championship course, it's just as dramatic as the island itself, very dry, and very challenging. That said, I came out the other side having shot 91, with 2 par-5 birdies to my name. Quite impressed.
The above would not have been possible without my (unexpected) playing partner, Jussi - his advice on how to approach each hole was invaluable, and he was great company for the duration! Helped too that he was a scratch golfer! :D
All in all, this was one of the best holidays we've ever had. We had 27 degree days, and 20 degree nights, with no rain whatsoever. Sofia spent hours every day in the pool, Asia spent time every day in the Ocean, and I spend time every day on a Sun-lounger drinking beer.
Perfect.
Date of last visit : October 2020
---
Madeira Attractions

Auto Rent-a-Car

Funchal Cable Car

Wicker Basket ride

Palheiro Golf

Sao Vicente

Ribeiro Frio

Camara de Lobos