My Parents had been to Poland once, back in 2011 when me and Asia got married, and ever since then had wanted to come back one more time, to see more of this wonderful country. So we planned, and we saved, and in the end we managed to get them tickets to come over for our Grand Tour. It was a three week long adventure, starting in Warsaw, heading up through Mazury to Gdansk, and then all the way down to Zakopane, back up to Lublin, and ending up again in Warsaw.
Before I even start with the details of the trip though, it must be said we did a couple of things wrong. We'd hired a car (a pretty big, comfortable Toyota Auris Hybrid), but we'd definitely planned on seeing too much, especially in the time we had. 3 weeks is a long time, but when you're driving a couple of thousand Kilometres in that time, and staying in a new place every other night, you end up exhausted at the end of every day. Especially with a 4-year old in the car – Sofia, if you ever read this, you handled it brilliantly – be warned!
Now, to the Adventure!!
---
Week 1
We met my parents early in the morning in Warsaw, having arrived ourselves the evening before, and having already picked up the car. After breakfast at Dominik & Julia's place – Thanks guys! – we hit the road to Mazury just before lunch. For the first drive of the trip, this one was pretty good, broken up only by roadworks, and made all the more interesting due to the route provided by Google Maps – this became somewhat of a joke later in the trip, but for now, we were blissfully unaware…
We arrived at the AirBnB lodge in Miłki early in the afternoon, and it was simply amazing – a smallholding on the banks of a lake, run by some of the friendliest people you could imagine (though in Poland, this is generally par for the course!). Shops just around the corner for convenience, and plenty of attractions within a short distance by car. We spent 2 nights here, and loved every minute of it.

Our hosts had a little boat that Sofia absolutely adored, so there was a lot of time spent on the lake, but apart from that we took a trip up to Giżycko, and had a very nice walk along the pier. Mazury is known as the Lake District of Poland, and with good reason – it's a beautiful area, very hilly, and each corner rounded is another lake discovered – no wonder it's one of Poland's most touristy regions!
Eventually we had to say goodbye, and move on. Our next stop was Gdansk, which we reached via dint of some serious diversions, tracing the ancestry of my Dad's Grandparents (who'd all been born in the region). Find them we did though, in the middle of nowhere – and I mean that literally, as they all seemed to have been farmers.
One of the finds of the tour was before we reached Gdansk, when we took a wrong turn and ended up at the Elbląg Canal, which at 150km long, is the longest shipping Canal in Poland.
It's a fascinating method of transport – instead of locks, they have a unique system of pulleys, and specially outfitted boats, that get dragged up and down dry sections of bank to the next stretch of water. Very clever, and still fully operational!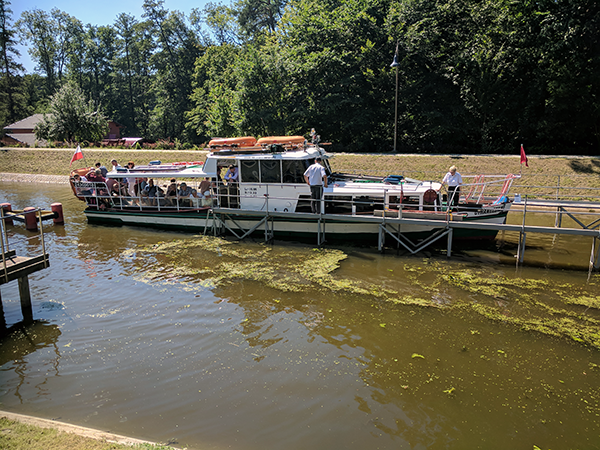 We'd rented a flat for 2 nights in Gdansk, not far from the Old Town. This actually meant we only had one full day there, as we arrived late, and left early. So rush around we did, trying to see as much as possible of this Historic Port, and we also took the train up to Sopot for the afternoon, which was a highlight, as it's a gorgeous Seaside town – though you have to pay to get onto the pier, which is a bit cheeky!

Gdansk was one of the first cities to be invaded by the Germans during the war, and as such was largely undamaged, a fact which is evident in the size and beauty of the Old Town – most of the old buildings are still intact, and it is a thriving tourist centre.
When the time came to leave Gdansk, it was to face our biggest challenge of the trip – the long slog down to Zakopane… We'd broken the trip into (what we assumed would be) manageable stages, but it fell apart on the first night, when Asia realised she'd never confirmed our first booking, and it was no longer available. This meant we'd have to spend an extra 3 hours in the car going straight to Wrocław, and spending an extra night there.
First though, we stopped at the Biskupin Archeological Museum, which is a pretty fascinating old Dig site, and has been converted into a museum of the ages. Good for a few hours out, but remember to bring your Insect Repellent!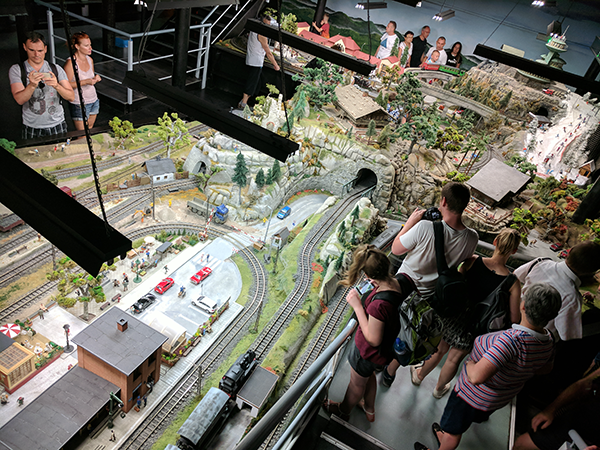 It was pretty late when we finally reached Wrocław, so we headed straight into town for dinner. I Love Polish food, and when you're enjoying it sitting in the Old Market square of one of Poland's most historical old cities, (even when you're exhausted from driving all day) it's second to nothing on this Earth.
Unfortunately when you arrive too late and end up having to sit at a chain outlet, the experience is somewhat more disappointing… We'll not be eating at a Sphinx restaurant again!
Our first day turned out to be the hottest of the year, and the hottest ever recorded in that part of Poland – 38.9 Degrees. We visited Kolejkowo, a miniature train world (Fascinating, and so incredibly detailed!) and spent a happy 2 hours admiring the hard work of just a few dedicated and passionate individuals, and then we hit Wroclaw Zoo in the afternoon.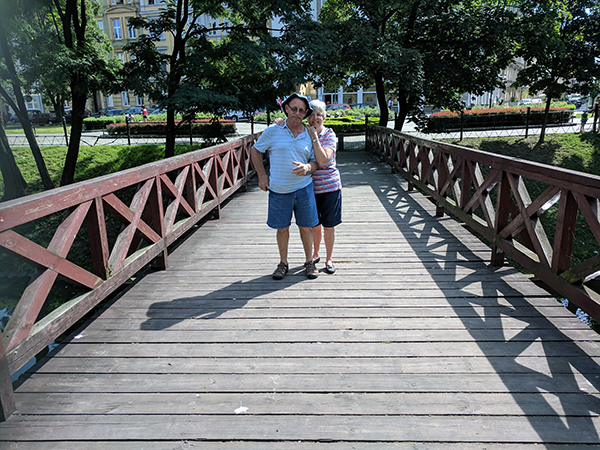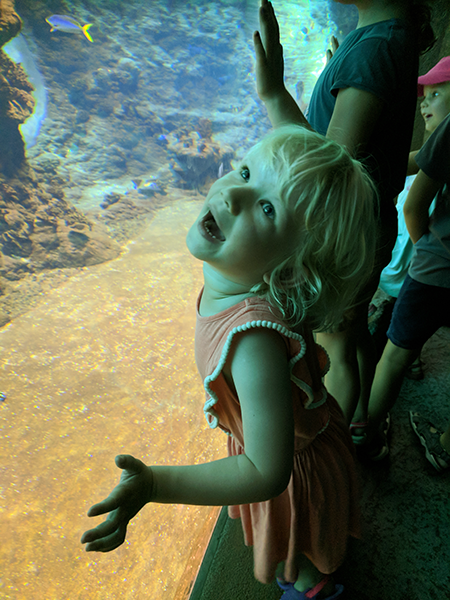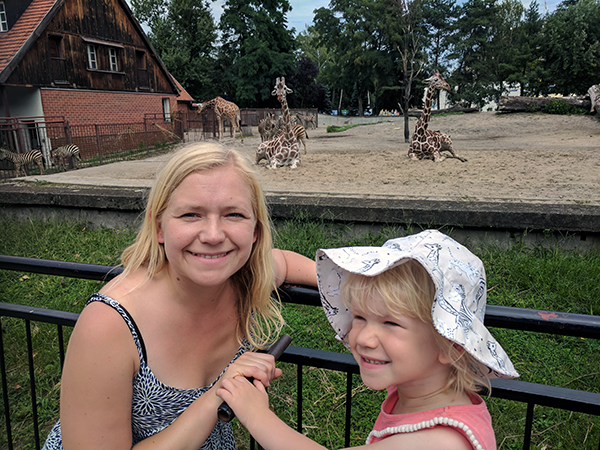 We didn't see the whole zoo though, as it was by now just too hot, so we had a good look at the Africarium Exhibit, and then tootled off home.
On day 2 we visited the Aquapark, which was an absolute blast – they have some truly exhilarating slides, though some are rated as pretty dangerous, with good reason!
This was the first time we'd visited Wrocław, and it's most definitely a City we'll be visiting again!
---
Week 2
The Grand Tour next moved on to Krakow, one of my Favourite cities ever. Unfortunately we only had one night planned here, as we'd all seen the city before. We arrived pretty late again, so while Asia met up with a friend, I took my Parents and Sofia to Pod Wawelem, one of our favourite restaurants. They serve great Polish cuisine, but also offer Burgers, Ribs, etc., so pretty much cater for everyone. Their portions are big, their beers are bigger, and they have a large Play area for the Kids. What's not to like?
The following morning we headed over to Klockoland, an interactive Lego Exhibit, half expecting to be as blown away as we were by Kolejkowo in Wrocław. To get there by car, Google maps took me right through the Old Town, which is technically a restricted zone. Thanks Google!
Anyway, after all that hassle, Klockoland ended up being a fair disappointment, with only a few random MOC builds on display, and a small build area in a separate room. I quite recently discovered History Land, which seems to be a much larger and, well, better option. Next Time! As a result of our disappointment though, we hit the road pretty sharpish down to our next destination: Zakopane.

Zakopane is only a couple of hundred kilometres from Krakow, but the roadworks taking place, and the fact we were headed there in the peak of Tourist Season, meant it took us several hours to reach our BnB, in the small village of Małe Ciche, just outside town. We stayed at Ośrodek Wypoczynkowy Kułach Maria i Stanisław, which I'd highly recommend to anyone wanting to visit the region; Wonderful hosts, and very affordable for how convenient and comfortable it is!
If I'm honest, the next 5 days were the highlight of the Grand Tour – we did adventure some, but never too far of a drive, and after the slog of travelling from North to South Poland, it was more than welcome! What we did do while staying here was:
Morskie Oko
Poland's most famous Lake, it's the Largest of the Tatra lakes, and the 4th deepest as well. It's an incredibly popular tourist destination, and unless you're there super early, you'll have to park about a Kilometre away from the entrance (like we had to). It's a 9-kilometre walk from the Base Car park, all of which is on tarred road, through natural forests (which are looking pretty decrepit right now, due to illness and infestation).
Not an incredibly hard slog then, but it's uphill all the way. As you get higher, the views become more breathtaking, and by the time you reach the lake itself, you're in the heart of the Tatra's, surrounded by peaks. Awesome.
There is also the option of taking a horse-drawn carriage up the mountain (not the cheapest option, but for the elderly or very young (like my folks & Sofia) a very convenient alternative! Myself and Asia walked up, enjoying the few hours we had to each other. We reached the lake just as the clouds were descending, so managed to get in the best of all the weathers.
Once the mist had rolled in, visibility was almost zero, but by then we'd managed to get some great pictures, and it was time to head back down. I did the walk down with my Dad, while Asia relaxed on the Carriage with Mum and Sofia.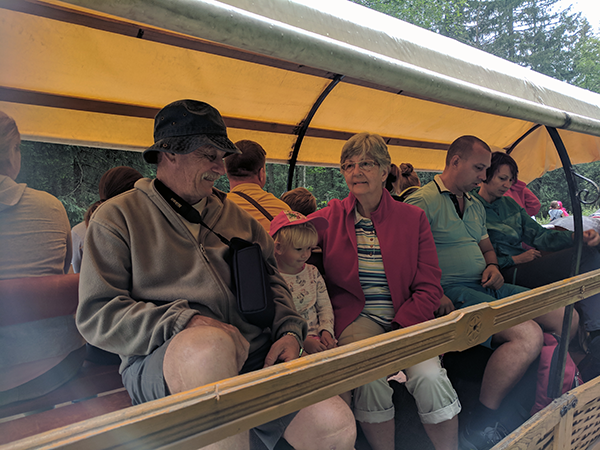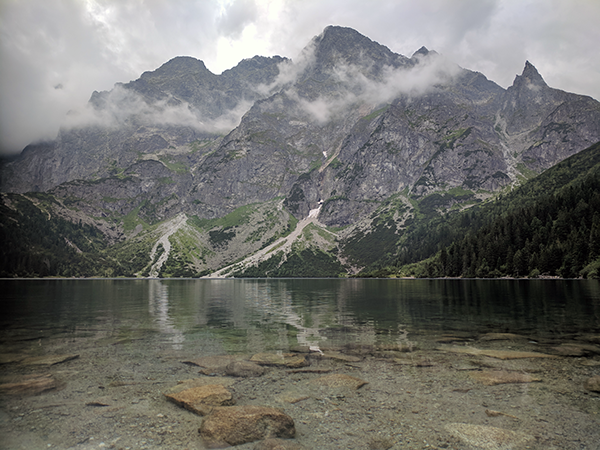 Zakopane
We went in to the town proper only once during our stay in the Mountains, and had a walk around town while my Mum searched (unsuccessfully) for souvenirs. Not that there weren't any, there was ample choice, but some people are just too picky. We had lunch at one of the restaurants on the Main street which, like most of the others, served a lovely selection of traditional Polish food. None of us are fond of crowds though, so we headed back to the peace and quiet of Małe Ciche pretty soon after lunch.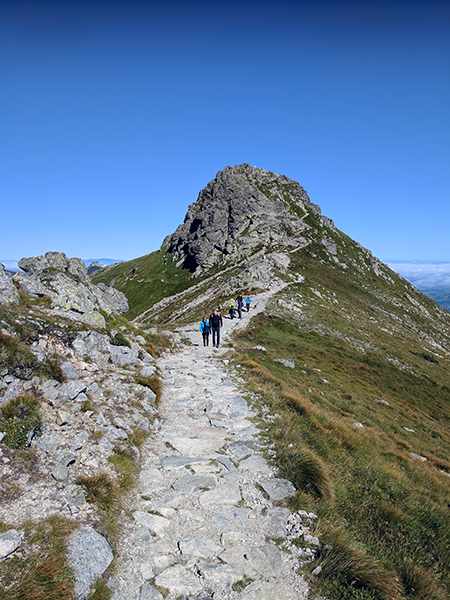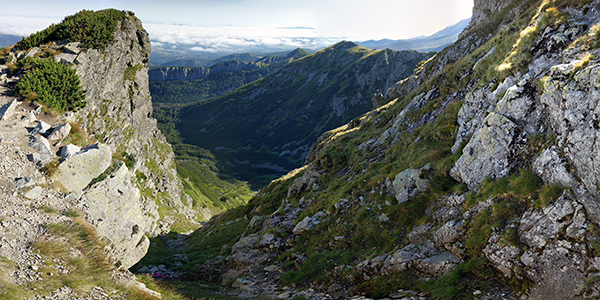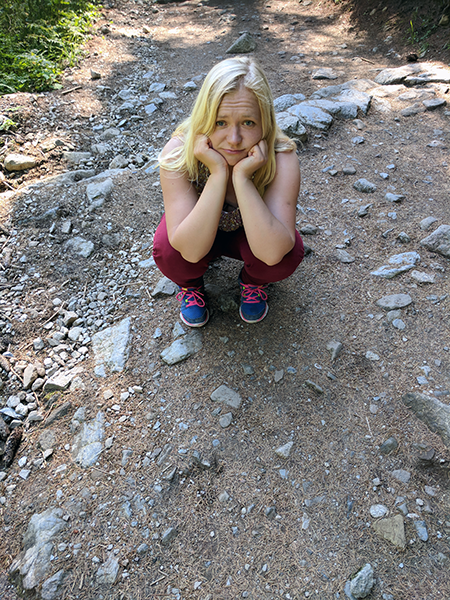 Kasprowy Wierch
Myself and Asia left early one morning to tackle Kasprowy Wierch, one of the most well known peaks in the Tatra mountain range, and the starting point for most of the hikes that are available in the region.
The peak is accessible by Cable Car (one of the oldest in Europe, built in 1935), or on foot, which was our preferred method. By the time we started the climb (about 6AM), there was already a queue about 100 meters long waiting for the Cable Car to open, so if you're planning on using it, be prepared for a long wait!
The path goes up the West side of the mountain, which is mostly forested. Not many people were on the trail that early in the morning, so it was a very peaceful hike up. It took us about 3 hours to reach the peak (with an altitude increase of just about 800 meters in that time).
As you exit the upper limits of the forest, you can finally take in the full majesty of the mountains to the South and East, and if you look North down the valley, the view goes on forever! At the top, where the Cable Car ends, is a restaurant, and it's here we stopped for a hot Chocolate and to bask in the glow of our achievement.
There is a path that runs along the top of the range, connecting most of the major peaks, and it also acts as the border between Poland and Slovakia. We took this path towards Swinica, and then hit the trail downwards halfway along the ridge; From here on in it got BUSY.
By the time we reached the valley below and the rest house, there was (and i'm not joking here) a SEA of people – all of them going in the opposite direction to us. Some poor folk were trying to drag kids buggies along the path, which is just… I lack words…
Anyway, we got back through the Entrance to the park, which was by now heaving with families and tour groups, and headed back home to relax our tired legs.
We also spent a fair bit of time exploring the local area or taking the small Ski Lift to the top of the hill just behind our Lodge, and we found a wonderful Pizzeria/Pub just down the road, which we frequented pretty often. Our neighbours in the BnB also had a young Son, so Sofia found a playmate for the duration too.
As the saying goes though, Time Flies when you're having Fun, and before we realised, it was time to move on.
---
Week 3
Back on the road again… Our trip from Zakopane started bright and early in a bid to miss the traffic, and with the knowledge that we'd be making a pretty lengthy detour to visit Asia's Dad on his Pilgrimage. We knew he'd be in Chęciny, which was about 1 1/2 hours out of our planned route, but as it was the only chance we'd have to see him, there wasn't much choice.
Chęciny is not a big town, but it's got a beautiful Church right on top of the highest hill, and the town itself is nestled in the valley below it. This was another ridiculously hot day though, so most of the time there was spent trying to find shade while we had a catch up, and any exploring was enthusiastically avoided.
Our destination for the night was Zalipie, a place I'd never heard of before, but which Asia was very keen on seeing. And at the end of the day, why not?
We stayed in an old Farmhouse, in a small Village in the middle of the Countryside, which still had a traditional Wood-burning Stove, and a fully recreated Blacksmith workshop in the yard.
Our hosts were also wonderful, and had cooked a traditional Polish dinner for us, which we ate out on the porch. Just down the road was a family run shop and pub (run out of what I assume used to be a Garage), with yet more super-friendly and welcoming locals.
But all this isn't what makes Zalipie truly special; It's the Flowers. Not the Flower Gardens, but the Flowers painted on almost every building in the village.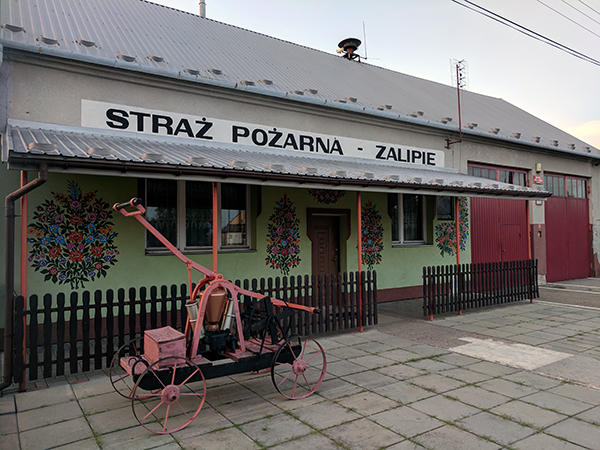 They've even got a book that you can buy about it! It is truly one of the most beautiful little places I've seen, and to top it all off, it's really, deeply peaceful.
Getting there is a bit interesting though, especially if Google is guiding you… The only negative was that we'd booked just a single night, and we all wished it could have been more.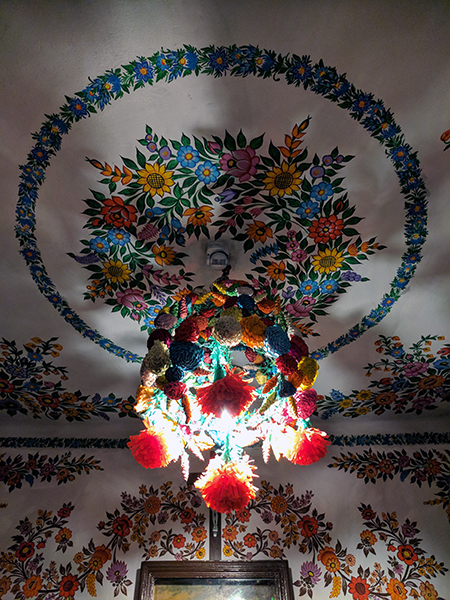 With the Peace and quiet of the Countryside now behind us, we approached Lublin, Asia's home town. We'd all been here before (It's where we got married), so the next few days were spent catching up with old friends, going to the movies, and relaxing in the Old Town. We stayed in an Apartment just outside of the centre of town, with pretty useful bus routes in, but there was also a shopping centre just around the corner.
It's here that we handed the car back, and I was pretty sad to see it go – it had served us very well over the last few weeks, and had handled Google's rather interesting route choices with enthusiasm.
Our final stop was a return to Warsaw for 2 nights. Having rented an apartment not far from the centre, we managed to get around to a few shopping centres, but that was about the best of it. We were all so pooped by now, that it was just nice to sit and relax with a cold beer on the patio and watch the world go by.
Myself and Asia did manage to get off to a wedding in Radom for one of the nights that we were in Warsaw, leaving Sofia with my folks. This was the first time we'd ever left her alone overnight, so there was some trepidation at first – as the night went on though, and our phones continued to remain quiet, we relaxed and had a really good party. Polish weddings are great.
We got back to Warsaw just after 8AM in the morning, shortly after Sofia had woken, to find that they had had a good night too. Friends of ours came through from Siedlce later that day, and we spent an enjoyable few hours with them in Park Skaryszewski, not far from where we used to live.
As with all good things, the time eventually came to say goodbye. My parents were on an early afternoon flight, and I popped them on a City train to the airport, my mum still determined to find some souvenirs! We flew later the same evening, eventually arriving back in Aberdeen just about 1AM (with me having work at 9!).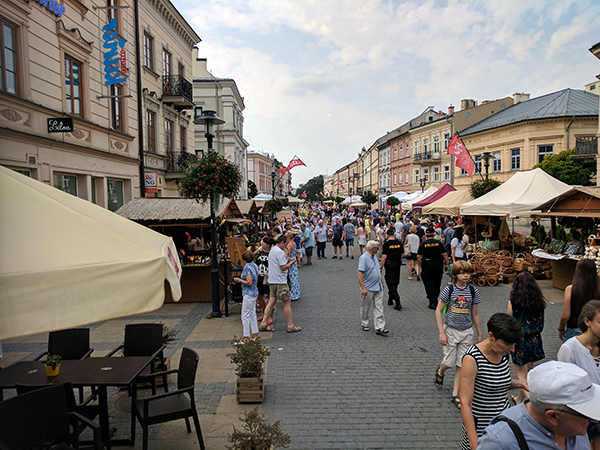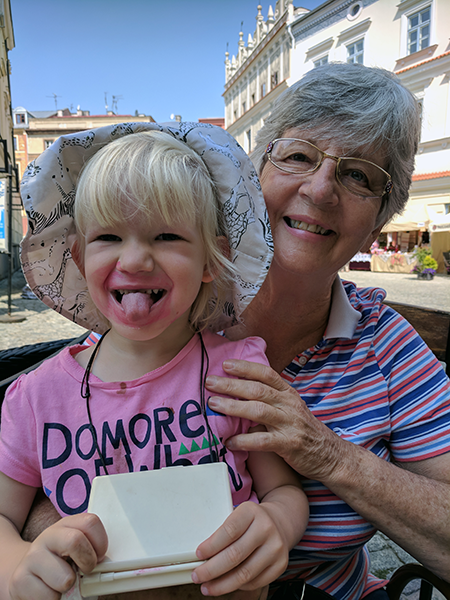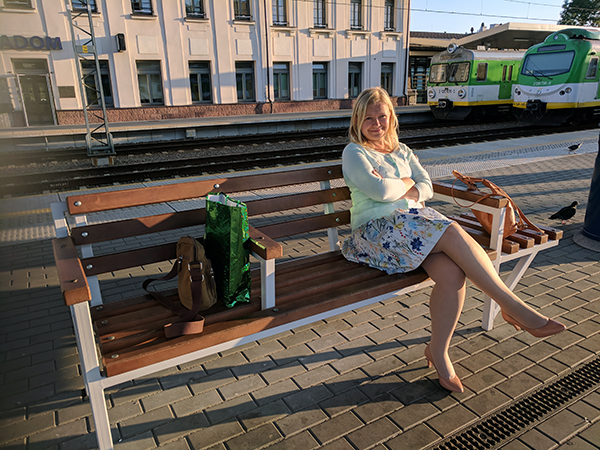 It was a wonderful 3 weeks, with some great memories, and some great photo's (though in the end, no souvenirs). Next time I'd definitely do some things differently, but i don't think we could have hoped for a better experience than we had. Thanks to all involved, and I'm looking forward to the next Grand tour of Somewhere!
Dates: 26 July – 16 August 2017